As you know, 2015 was a crazy year for movies: Mockingjay Part 2 was such a brilliant way to say goodbye to Katniss's story!
Also, The Martian was also pretty successful (I haven't read that book yet).
But it seems that, in 2016, we will see many other great books coming to the big screen! I will only talk about three books/movies, which are the ones that make me feel excited to go the cinema and watch them! Here some books that are going to be movies next year:
The 5th Wave
Release date: January 22th, 2016
Goodreads synopsis: After the 1st wave, only darkness remains. After the 2nd, only the lucky escape. And after the 3rd, only the unlucky survive. After the 4th wave, only one rule applies: trust no one.
Now, it's the dawn of the 5th wave, and on a lonely stretch of highway, Cassie runs from Them. The beings who only look human, who roam the countryside killing anyone they see. Who have scattered Earth's last survivors. To stay alone is to stay alive, Cassie believes, until she meets Evan Walker. Beguiling and mysterious, Evan Walker may be Cassie's only hope for rescuing her brother–or even saving herself. But Cassie must choose: between trust and despair, between defiance and surrender, between life and death. To give up or to get up.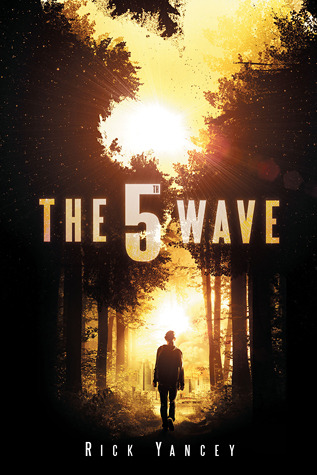 The 5th Wave is the first book of the trilogy written by Rick Yancey. It's perfect for any reader that loves Sci-Fi, specially if you love Aliens!
I have read this book and I gave it 5/5 stars! So, I can't wait to see the movie!
Fantastic Beasts & Where to Find Them
Release date: November 2016
Goodreads synopsis: A copy of Fantastic Beasts & Where to Find Them resides in almost every wizarding household in the country. Now Muggles too have the chance to discover where the Quintaped lives, what the Puffskein eats and why it is best not to leave milk out for a Knarl.
Proceeds from the sale of this book will go to Comic Relief, which means that the pounds and Galleons you exchange for it will do magic beyond the powers of any wizard. If you feel that this is insufficient reason to part with your money, I can only hope that passing wizards feel more charitable if they see you being attacked by a Manticore.
If I want to Hogwarts, I should have this book! But I don't have it… Maybe I could get it next year!
I think it's amazing that they are making movies from this book! Not only we learn more about the magical creatures that J.K. Rowling created, but also we can go back again to this beautiful, magical world. We won't see the Golden Trio or the other characters, but I'm still looking forward to see what they are planning to do with this book.
Miss Peregrine's Home for Peculiar Children
Release date: December 25th, 2016
Goodreads synopsis: A mysterious island. An abandoned orphanage. A strange collection of curious photographs.
A horrific family tragedy sets sixteen-year-old Jacob journeying to a remote island off the coast of Wales, where he discovers the crumbling ruins of Miss Peregrine's Home for Peculiar Children. As Jacob explores its abandoned bedrooms and hallways, it becomes clear that the children were more than just peculiar. They may have been dangerous. They may have been quarantined on a deserted island for good reason. And somehow—impossible though it seems—they may still be alive.
A spine-tingling fantasy illustrated with haunting vintage photography, Miss Peregrine's Home for Peculiar Children will delight adults, teens, and anyone who relishes an adventure in the shadows.
I have heard many good things about this book, written by Ransom Riggs. That's why that I bought it this October. However, I haven't gotten time to read it yet. Anyway, I'm also looking forward for this movie; after all, the director is TIM BURTON! YES, TIM FREAKING BURTON, GUYS!
There isn't a trailer yet, but they have been posting on social media photos from behind the scenes. The only thing official that has been released is the header that I posted above. It looks really good!
So, are you excited to see these movies? Are there other book-to-movies adaptations that you can't wait to watch? 😀