Despite the fact I live in Portugal and I can't easily get new releases, that doesn't mean that I can't get excited when I see a release of a new book with potential!
For example, today is the release day of Truthwitch, by Susan Dennard.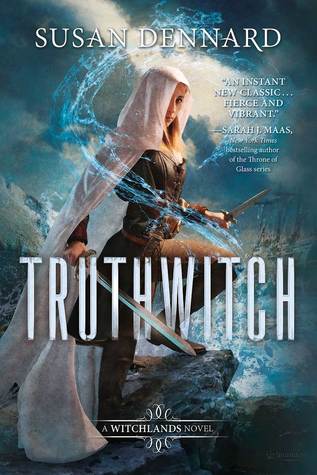 Goodreads synopsis:
On a continent ruled by three empires, some are born with a "witchery", a magical skill that sets them apart from others.
In the Witchlands, there are almost as many types of magic as there are ways to get in trouble—as two desperate young women know all too well.
Safiya is a Truthwitch, able to discern truth from lie. It's a powerful magic that many would kill to have on their side, especially amongst the nobility to which Safi was born. So Safi must keep her gift hidden, lest she be used as a pawn in the struggle between empires.
Iseult, a Threadwitch, can see the invisible ties that bind and entangle the lives around her—but she cannot see the bonds that touch her own heart. Her unlikely friendship with Safi has taken her from life as an outcast into one of reckless adventure, where she is a cool, wary balance to Safi's hotheaded impulsiveness.
Safi and Iseult just want to be free to live their own lives, but war is coming to the Witchlands. With the help of the cunning Prince Merik (a Windwitch and ship's captain) and the hindrance of a Bloodwitch bent on revenge, the friends must fight emperors, princes, and mercenaries alike, who will stop at nothing to get their hands on a Truthwitch.
This book has 416 pages and it's the first book of The Witchlands series, which is going to have 4 books in total, according to the author.
There are people that are super excited about this book because it looks like a badass Fantasy story and, for what I have seen on  Goodreads, this book doesn't focus on romance, but it's a story about friendship. However, there is some "romantic tension", according to Susan Dennard.
The author, also on Goodreads, said that her new book has "has elemental magic and a chosen pair (of kickass girls!) who bring balance to the world. There are antiheros and pirates and dragons and monsters who look like humans…as well as humans who look like monsters. Oh, and did I mention the romance? 😉
At its heart, though, this book is about friendship–the epic friendships that transform your life. The family you choose. The people who always, always, ALWAYS have your back. It's those binding ties that propel everything in Truthwitch and beyond."
I mean, I think after reading the way she described her book, I would buy it! It's seems to be very interesting and unique!
Many bookworms are excited about this release also thanks to Sarah J. Maas, who has said many beautiful things about Truthwitch. It seems that Maas and Dennard are best friends, and isn't it cool to see friends supporting each other? Awesome!
Well, this is Sarah J. Maas's Goodreads review about Truthwitch: "Make room on your all-time favorites shelf: TRUTHWITCH is an instant new classic.
It reminded me of why I started reading fantasy in the first place: its fierce and vibrant world, richly-drawn characters, and dazzling intrigue harkens to the best of Megan Whalen Turner, Robin Hobb, and Jacqueline Carey. And while it pays homage to the epic fantasies that have come before it, it also lays the foundation for a bright new chapter in the genre.
I haven't been so enthralled and inspired by a book since I first read Lloyd Alexander's THE BOOK OF THREE. Do not miss out!"
I wish I could get this book today… But if you are 13 or above, and love Fantasy books about witches and stories that focus on friendships rather on romance, I think this is the right book for you!