I have another tag!!!
This time, I was tagged by Mariana @fireheartbooks (thank you, Mariana!) to do The Bedtime Book Tag!
1. What book kept you up all night reading?
Oh, no, I am not that kind of reader… I really love to sleep, you know? But I am currently reading Harry Potter and The Goblet of Fire and I have been starting to sleep after 4 am because I am enjoying it so much!
2. What book made you scared to go to sleep?
None :p
3. What book almost put you to sleep?
A portuguese novel: Memorial do Convento, by José Saramago. Its english title is Baltasar and Blimunda.
I actually remember that day: it wasn't even midnight yet, but I was tired and I was reading a very boring part of this book, so I actually fell asleep and slept for almost 30 minutes and then I woke up, read a little bit more, and then I decided to sleep again. I know, it's funny :p
4. What book has your dream boyfriend/girlfriend?
Peeta Mellark (The Hunger Games trilogy) is kind, smart and everything that I hope my future boyfriend is, but Simon Lewis, from The Mortal Instruments series, is the whole package because he's also kind, smart, but also funny and nerdy. Actually, he's like the female version of me!
5. What book world would be your worst nightmare to live in?
I definitely wouldn't  want to live in A Song of Ice and Fire's world…. Damn, there are so many people that die there… That's a big no from me.
6. What book has a nightmarish cliffhanger?
Well, the Catching Fire's cliffhanger must have been like a nightmare for Katniss Everdeen!
7. What book cover reminds you of nigthtime?
The portuguese cover of The Fault in Our Stars, by John Green!
8. What book have you actually dreamed about?
What??? Oh, I remember! I actually dreamed that I have finally got An Ember in The Ashes, by Sabaa Tahir, as well as The Wrath and the Dawn, by Renée Ahdieh. I have an aunt and an uncle that live in Canada and I told them to give me those books, but they haven't sent them to me yet… I actually have to tell my dad to talk to them about these books.
9. What book monster would you not like to find under your bed?
I wouldn't like to have Dementors under my bed, that's for sure!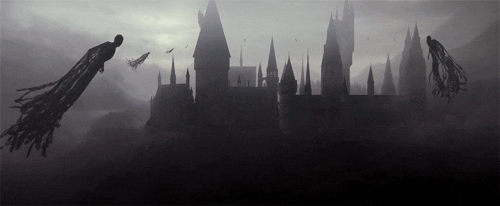 I really don't like to tag people because I feel like I am being annoying. So, feel free to do this tag! 😀