Last year, it was announced that Jack Thorne would write a play based on the fantastic, magical world created by JK Rowling. Harry Potter and the Cursed Child, which will be split into two parts, will debut in London on 30th July this year.
So, of course, every single Potterhead freaked out, even though many of them (like myself) can't see the play.
Look at the official art for the play. STUNNING!
Also, here's the official synopsis:
It was always difficult being Harry Potter and it isn't much easier now that he is an overworked employee of the Ministry of Magic, a husband and father of three school-age children.
While Harry grapples with a past that refuses to stay where it belongs, his youngest son Albus must struggle with the weight of a family legacy he never wanted. As past and present fuse ominously, both father and son learn the uncomfortable truth: sometimes, darkness comes from unexpected places.
YESSSSSS!!!! BRING IT ON!!!!
JK Rowling is one of the scrip writers and she has shown her satisfaction regarding the choice of actors to play Harry Potter, Hermione Granger and Ron Weasley.
As there are many fans who don't have the opportunity to see the play (yup, that's sad), there have been rumors that, maybe, the play would become a book. And today this idea was confirmed: the eighth story of Harry Potter, Harry Potter and the Cursed Child, will be launched on July 31, day of the protagonist's birthday and JK Rowling's. The book is not a novel, but the adaptation of the play mentioned above, written by Jack Thorne and John Tiffany, with the help of the creator of the magical world.
It doesn't have an official cover, but it could be this because it looks so beautiful: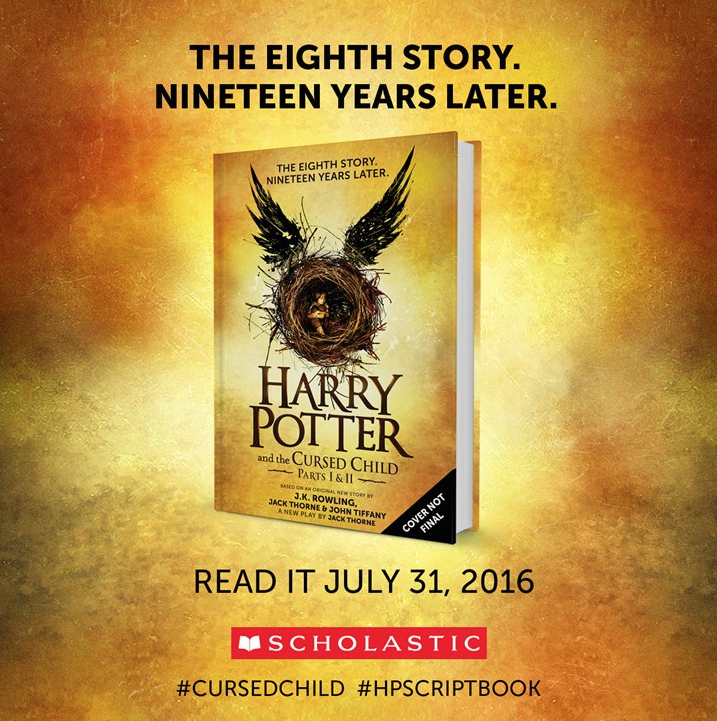 But 2016 is not the only year filled with fabulous news about Harry Potter. After all, 2017 marks the 20th anniversary of the UK publication of Harry Potter and the Philosopher's Stone. To celebrate, the first book of the collection will have four new editions, each dedicated to each Hogwarts house: Gryffindor, Ravenclaw, Slytherin and Hufflepuff. It is in this same year that there will be new editions of Fantastic Beasts & Where to Find Them (which will include new content by JK Rowling), The Tales of Beedle the Bard and the Quidditch Through the Ages.
Also in 2016, the illustrated edition of Harry Potter and the Chamber of Secrets will be released in October. Once again, the illustrator is Jim Kay, who did a beautiful job in the illustrated edition of Harry Potter and the Philosopher's Stone.
So, WHO IS EXCITED ABOUT ALL OF THIS??? I AM!!!!