Here's a little introduction about the meme, which was created by The Broke and the Bookish:
"Top Ten Tuesday is an original feature/weekly meme created here at The Broke and the Bookish. This feature was created because we are particularly fond of lists here at The Broke and the Bookish. We'd love to share our lists with other bookish folks and would LOVE to see your top ten lists!
Each week we will post a new Top Ten list  that one of our bloggers here at The Broke and the Bookish will answer. Everyone is welcome to join. All we ask is that you link back to The Broke and the Bookish on your own Top Ten Tuesday post AND add your name to the Linky widget so that everyone can check out other bloggers lists! If you don't have a blog, just post your answers as a comment. Have fun with it! It's a fun way to get to know your fellow bloggers."
Those paragraphs were taken from The Broke and the Bookish. For more information, here's the
post
.
---
This week's theme is: Ten Book I Enjoyed Recently (last yearish) That Weren't My Typical Genre/Type of Book (or that was out of your comfort zone).
Ok, guys, I'm going to cheat on this one because it's really rare for me to read books that are out of my comfort zone, so… let's talk about Gone Girl, by Gillian Flynn!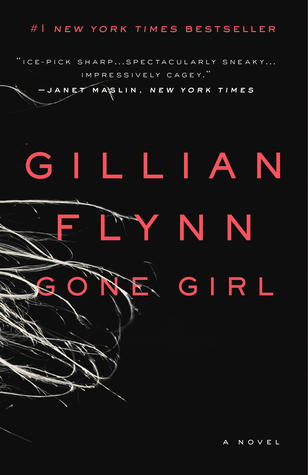 Goodreads synopsis: On a warm summer morning in North Carthage, Missouri, it is Nick and Amy Dunne's fifth wedding anniversary. Presents are being wrapped and reservations are being made when Nick's clever and beautiful wife disappears. Husband-of-the-Year Nick isn't doing himself any favors with cringe-worthy daydreams about the slope and shape of his wife's head, but passages from Amy's diary reveal the alpha-girl perfectionist could have put anyone dangerously on edge. Under mounting pressure from the police and the media—as well as Amy's fiercely doting parents—the town golden boy parades an endless series of lies, deceits, and inappropriate behavior. Nick is oddly evasive, and he's definitely bitter—but is he really a killer?
My comfort zone is: Fantasy, Sci-Fi, YA Contemporaries and classics. Thrillers aren't included here because I prefer them as tv series or movies. Also, you have to be really good at writing thrillers. You have to know how to give a few pieces of information, but they must be interesting enough for the reader. You also have to create a fresh story because, after all, there are many thrillers that sound like the same story or many of them are just full of clichés. As you can see, I really don't read thrillers because I'm afraid I'll get disappointed and I'll feel like I just wasted my time.
But I read Gone Girl. I read it because everyone was talking about the movie (I even saw so many gifs on Tumblr; yes, I saw spoilers too, but I still enjoyed the book) and, eventually, everyone was talking about the book. Of course that, at first, I was like: "no, I'm not going to read it because I don't like to read thrillers". But I decided to challenge myself and I bought it and holy crap, I'm glad that I bought it! It was freaking amazing! So creepy, but so good! And the freaking "grey" characters, you know? They aren't really good people, but maybe they aren't that bad either; they can't be defined as good OR bad. They are just… scary human beings, you know? I freaking loved how well they were created. I think they are definitely the best thing in this book. And, of course, I loved the plot. DAMN!
What is impressive is the fact that I saw many gifs that shown major spoilers, but they didn't make me not like the book. What I mean is that, even though I knew some major things, I still enjoyed the book! Yes, it was that good!
Actually, just read my review, which I posted on Goodreads when I read it last summer:
This is an incredibly terrifying book! Toxic and stunning. It has all the qualities that a psychological thriller should have: it messes with our mind in an extremely mind-blowing way!
Gillian Flynn is a very intelligent author: all well planned, not only the plot, but also the construction of the characters. Everything was done in such a meticulous way. Congratulations on writing such a briliant book, Gillian Flynn!
Gone Girl was an explosive, surprising reading, with stunning twists, credible and remarkably real characters and a well-structured plot and fascinating, making us think, making us to ask the question: Do we really know the ones we love?
There are probaly other books that I have read and are out of my comfort zone, but if I don't even remember them it's because they were bad, and that's not the point of this week's theme.
---
That's it for today, bookish people! Let me know if you have read Gone Girl and, if so, if you have enjoyed it!