Heyyyyy, bookish people! Happy weekend! Well, not for me because I have so much to do for college… And yet, I'm here proscratinating…
Anyway, have I told you that I ordered new books this week? Yup! I ordered 2 books, but one of them is actually a gift for my best friend's birthday! And what about the second book? Well, it's for me of course! Do you know what I ordered?
Yessss! I have finally got the chance to order Six of Crows, by Leigh Bardugo! I can't wait to read it because I really enjoyed Shadow and Bone (the first book of Leigh Bardugo's trilogy, The Grisha) and I know Six of Crows takes place in the same world as Bardugo's trilogy. However, I wasn't really planning on buying it because there are other books I really want to buy first (like the last two book of The Lunar Chronicles series, by Marissa Meyer). But when I was choosing the gift for my best friend on Book Depository, I decided to check if they had dropped prices of some books I want. At some point, I wrote Six of Crows and I was pleasantly surprised! You know why? BECAUSE THE HARDCOVER USUALLY COSTS 17,51€ (19.535907 USD) AND I ONLY PAID 11.23€ (12.529311 USD)!!!! SUCH A GOOD PRICE FOR A HARDBACK, DON'T YOU THINK???
I am so happy, you have no idea! Thank God I check Book Depository in that day!
---
Well, let's talk about something else… I would like you to help me, please! Once  have order all the Lunar Chronicles books, I also would like to order another book, but I don't know which one! If you have read the books on my list, could you help me choose? I mean, I don't know when I'm going to order, but I would like to decide anyway.
Here's the list:
A Darker Shade of Magic, by V.E. Schwab: There's so much hype around this book and the author has released the sequel, A Gathering of Shadows, already and everyone loves it! They even said that the sequel is better than the first book, even though A Darker Shade of Magic was really amazing! So, I would like to read it!
---
The Young Elites, by Marie Lu: This one is also loved by many people, although I have seen some readers that have given 2 or 3 stars. However, many people say that the second and final book, The Rose Society, is wayyyyyyy better! Also, the main character is an anti-heroine! I don't think I have read books with anti-heroines, so I would like to read this, too!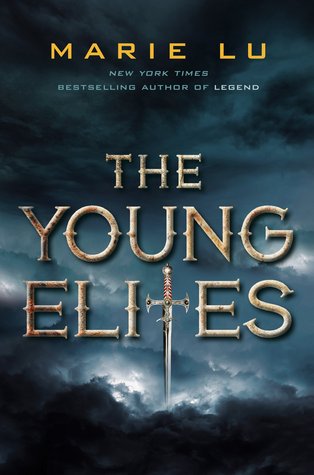 ---
The Raven Boys, by Maggie Stiefvater: Lately, especially on Instagram and Tumblr, many people have talked alot about this series and I'm always like: WOW, I really need to buy this because it sounds so intriguing!
---
You see, I really want to read all of them, but which one should I buy first?
I hope you help me! If not, thank you anyway! ^^