Book Traveling Thursdays is a weekly meme that was created by Cátia @The Girl Who Read Too Much and Danielle @Danielle's Book Blog. All you have to do is to post covers of a book related to that week's theme, which you can see at the Goodreads group. You have to post the original cover, the one that exists in your country, and finally your favorite covers and least favorite ones.
This week's theme is: Father's Day is celebrated in a couple of days in a few countries! Choose a book with a awesome father figure.
Ok, this one was hard because I don't have many books that have fathers in the story, which is kind of strange, right?
Anyway, I thought that I should choose Hazel's dad, from The Fault in Our Stars, by John Green. Why did I choose him? Well, read this:
"You are not a grenade, not to us. Thinking about you dying makes us sad, Hazel, but you are not a grenade. You are amazing. You can't know, sweetie, because you've never had a baby become a brilliant young reader with a side interest in horrible television shows, but the joy you bring us is so much greater than the sadness we feel about your illness."
Goddamnit, the FEELS!!!!
Can I just say that I loved the actor who played Hazel's dad in the book-to-movie adaptation? He was awesome!
---
Original cover: I love blue covers, so this one is totally one of my favorites!!!
---
Cover(s) from your country: There are 3 different editions:
---
Favorite covers: All the Portuguese ones, the original one, and the following:
---
Least Favorite Covers: OMG, there are some that are really terrible…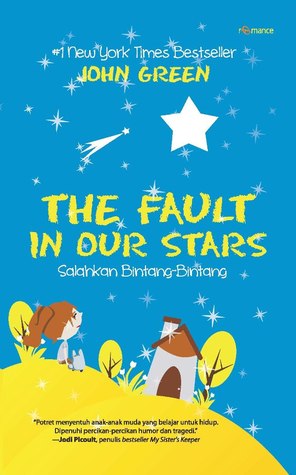 ---
Ok, that's it for today! Who are your favorite fathers from literature? Or father figures? 😀