Hello, bookworms! Happy Monday!
Let's start this week with a cool book tag! I was tagged by Cristina, from @MyTinyObsessions, to answer the Captain America Civil War book tag! Thank you, Cristina! The creator of this tag is Jennifer from @WonderlandReview.
I have watched the movie and it was SO FREAKING COOL! I LOVED EVERYTHING! It was a delightful surprise to see Spider-Man. I mean, of course I knew he would be there, but I really liked the actor, Tom Holland. He was great!
I'm excited to answer this, so let's do it!
The Rules:
Thank the person who tagged you. – Once again, thank you, Cristina!
Tag anyone and everyone you want!
Disclaimer: Jennifer's pretty sure about the actual teams for this movie but she could be wrong! You never know! Also, she's very much Team Cap so this might be a little biased.
---
Team Captain America:
Captain America: Name a character who always does the right thing. (If you aren't team Cap I guess you can change this to 'a character who always thinks he does the right thing').
Ok, I do like Tony Stark. Also, I don't read comic books, so I don't know much about these characters, only what I see in the movies, but I think I'm Team Cap. I do understand Tony's decision in Civil War, but honestly, they can't control what they do when they fight, right? The government shouldn't tear them apart because of that. I mean, it's not their fault. I guess.
Anyway, I think Katniss Everdeen (The Hunger Games trilogy) does the right thing, or at least, she tries. She's amazing and one of my favorite characters ever.
---
Falcon: A loyal character.
I really like Falcon. Well, at least, in the movies. That's why I want to read comic books! I want to know more about these characters! They are so fascinating!
Ron Weasleyyyyyyyyyyyy (Harry Potter series)!!!! He loves Harry so much and he would do anything for his best friend!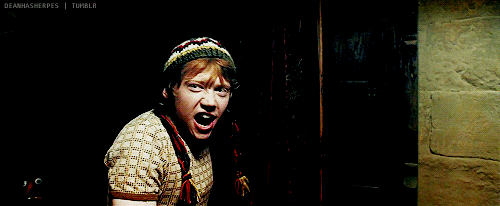 ---
Hawkeye: A character that is extremely good at something very specific (Like Hawkeye with his bow).
Why are there so many people that see Hawkeye is useless? Are you mad? He is brilliant! By the way, I liked that moment when he introduced himself to Black Panther. Amazing.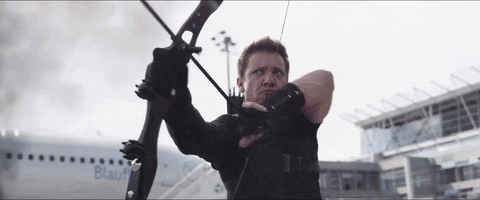 I'm not going to say Katniss again, but Finnick Odair (also from The Hunger Games trilogy) is pretty good when he fights with his trident.
---
Ant-Man: A character that's just happy to tag along.
I haven't watched the Ant-Man movie, by the way. Howver, from what I saw in Civil War, he is wonderful!
I mean, for those who have watch Civil War- this scene:
Maybe Neville Longbottom (Harry Potter series)? I think he gets pretty excited when people trust in him and he just likes to help, you know?
---
Agent 13: A character you're super nervous about (not going to say why, but I have my reasons).
She doesn't deserve the hat she is getting just because she kissed Captain America. She is so badass in her own her and all people care about is that she is ruining your ship (Cap+Bucky)? Really? This fierce can fight and she is very smart. Deal with it.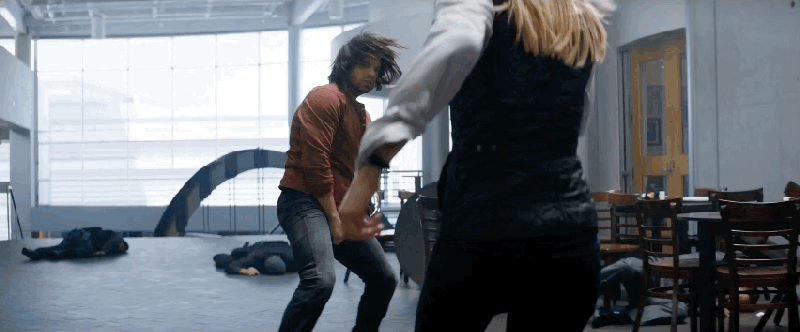 Anyway, I'm nervous about what is going to happen to Feyre (A Court of Thorns and Roses trilogy) in A Court of Mist and Fury. I love her and I don't want her to suffer anymore, but I have read some spoilers (of course) and she is going to suffer a little bit more and I'm just… Just leave my baby alone! However, I know she is strong and fierce and I know she will fight harder and I can't wait to see her being badass again.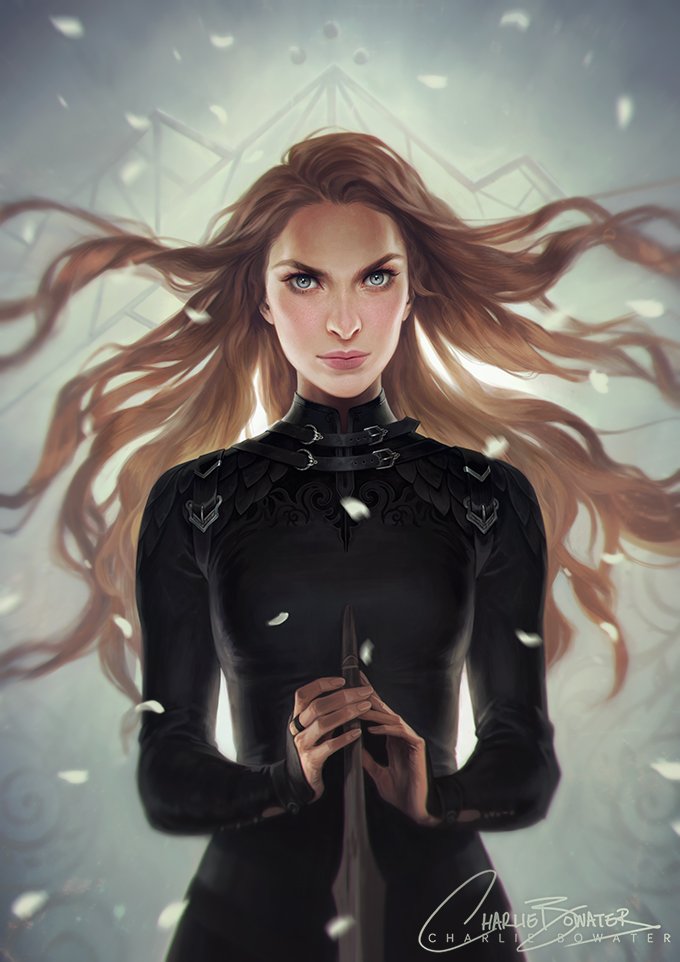 This fanart looks amazing!
---
Winter Soldier: A character with really great positive character growth.
Bucky doesn't deserve what he suffers in Civil War. While I was watching the movie, all I wanted to do was hug him and tell he will be fine. My poor cinnamon roll, too good for this world, too pure!
I have said this in other tags and I'm going to repeat: Darrow from Red Rising trilogy. I only read the first book, but damn. THE CARACTHER DEVELOPMENT IS ASTONISHING!
If you have read Red Rising, you will understand this fanart, of course.
---
Scarlet Witch: A character that started out on the wrong side but ended up joining the team.
I haven't watched The Avenger: Age of Ultron either, so I don't know much about Scarlet Witch. Anyway, I really liked her in Civil War. It made me sad when she felt bad for what she did in the beggining of the movie.
Can I do the opposite? I can't remember who started on the wrong side, but ended being good… I probably have read this kind of characters, but I can't remember right now. So, I choose someone who I thought was good, but he's actually bad: Sebastian, from The Mortal Instruments series. He's pure evil, even worse than his father, I guess (I have only read the first 3 books, by the way!).
Many fanarts were too spoilery, so… That's the only one I liked that didn't have spoilers.
---
Bonus: Winter Soldier & Captain America: Two characters that have been friends for a long time.
Yesssssss! I love their friendship, you have no idea! They are so loyal to each other!

Once again, The Mortal Instruments series! Clary and Simon have been friends since they were kids! They had some trouble in the first 3 books (and I'm sure they will have more in the other 3 books), but they help each other out and they love each other a lot.
---
Team Iron Man:
Spider Man is not here, by the way.
Iron Man: A character that doesn't seem to learn from their mistakes (*Fine. If you're team Iron Man you can change this question to, 'a character willing to stand up to his friends for what he believes in').
I don't think Iron Man committed mistakes (I'm talking about Civil War, not Iron Man as character because I've never read the comic books) because, after all, he was defending what he thought was right and I actually understand his point of view, of course.
Peter from the Divergent trilogy. Bro, why can't you understand that you can't mess with Tris or Four, or both of them together? Hahahah.
By the way,I actually like the movie version of Peter. I think that's pretty much the only good thing of these movies.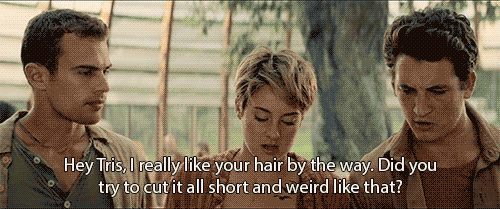 ---
War Machine:

A character that's always showing off his "big guns."
All I know about War Machine is what I saw in Civil War. Ops.
RHYSAND (A Court of Thorns and Roses trilogy)! He is such a show-off, but I love him so much!
---
Black Widow:

 

Badass female character that also has a soft side.
I LOVE BLACK WIDOW SO MUCH! SHE HAS EVERYTHING: BADASSERY, FEELINGS (anyone can be badass and have feelings at the same time. Deal with it), AMAZING FIGHTING SKILLS… I mean… CAN I BE HER???
Katniss Everdeen, Tris Prior, Feyre,… I mean, there are so many badass women who have a soft side! So, I choose Isabelle Lightwood (The Mortal Instruments series). Maybe I chose her because of the tv show, but I do believe she cares alot about her family, right? Especially little Max… Oh, the feels….
SLAYYYYYYYYYYYYYYYYYYY!
---
Black Panther:
A character out for revenge. 
Dudeeeeeeeee…. Let's talk about Black Panther! I definitely want to watch his solo movies! DAMN, HE SLAYED!
Amy from Gone Girl. That's a whole new level of revenge! The things she did to punish her husband… Damn…
I haven't watched the movie, tho.
---
Vision: A character you are unsure about.
Damn it, I should have watched Age of Ultron already, so that I could know more about Vision! But I think he is a very interesting character!
I really don't understand why evryone loves Étienne St.Clair from Anna and the French Kiss. Yes, it's cool to have a French name. It's cool to have British accent, even though he is American. BUT HE IS A CHEATER and he didn't do a damn thing to help Anna when everyone was literally bullying her! He's not a bad guy, of course not. However, he's not the cute kitten everyone seems to love.
---
Spider-Man: A character you were afraid just wasn't going to fit in.
YESSSSSSSSSSS, SPIDEY!!!!! HE SLAYED THAT MOVIE, TOO!!!! I swear to God that Tom Holland was freaking fantastic! OMG *swoon*. Also, every single line was just perfect. Damn, so good!
DAMN GOOD!!!!
Charlie from The Perks of Being a Wallflower. I really loved Charlie, my poor sweet boy. I was so mad that people couldn't really see him (well, he's a wallflower, that's point). I mean, he is such a good guy and he went through a lot and I was afraid that he wouldn't fit in high school. My first year as a high school was pretty normal because in Portugal we don't have that kind of environment like in USA, but I do know that in US it must be hard. I'm glad that Charlie eventually met amazing people that could understand him and help him.
Can I just say that everyone in the book-to-movie adaptation did such a phenomenal job? Especially Logan Lerman. God, I love him! **
---
Pepper Potts (pretty sure she isn't in this movie, but whatever):
A character who uses their intelligence.
That's not really a spoiler since we don't even see her in the trailers, but she isn't in this movie.
HERMIONE JEAN GRANGER (Harry Potter series), OF COURSE!!!! WHO ELSE???
---
Bonus- Captain America vs. Iron Man: You pick– Name two characters that started off as friends and are now enemies or name two characters that are on opposing sides that you want to work together.
I choose the second option: Celia and Marco from The Night Circus. They eventually worked together… Sort of. If you haven't read it, now you have to read to find out why I said that 😉
---
I tag:
And whoever wants to do this tag!!
---
I hope you enjoyed this post! See you soon!!!